Summary
Represent APIs and Web Services
Represent an application on several environments (PreProd / Prod)
Reminder functionality for regular updates of application information
Element naming
Question
Are there application naming conventions?
For example, prefix with APP-bbb
Responnse
Applications must be named in the same way as they are commonly named by IS actors.
It is important that the operational staff who use Carto-SI find their elements easily.
Represent APIs and Web Services
Question
For the notion of API of an application how can we represent it? just like Legacy Web Services?
Responnse
If the API or the Web Services in question meet the Carto-SI definition of an Application (i.e. an element which is deployed on its own and which renders a service to at least two other Applications of the IS or to at least one user), then this API must be represented by an Application type element in Carto-SI.
Example 1
In our Carto-SI application we have REST APIs; these APIs are integrated into our software and cannot be modified without redeploying all of Carto-SI.
These APIs must not be represented at the risk of having a mapping of our IS with too small a granularity.
Example 2
A client wishes to represent an ERP with a module that offers an invoice editing Web Service.
In this case, this module (which we will call Webservice EDITION) can be deployed and modified without affecting the ERP application.
We can therefore represent them as follows:
master data
Question
I'm starting to work on the Application Objects, which work well, and whose operation I understand on the dependencies, and therefore the objects exchanged.
However, I do not see how to model the master Data in the reference applications?
Response
Carto-SI is an operational mapping tool.
Carto-SI therefore aims to meet the needs of IS players (business, dev', infra) without carrying out modeling.
We therefore wish to respond to the problem of data monitoring in an equally operational way.
Our vision and our needs are therefore different; in this new paradigm of "operational mapping", we want to follow the way in which the data circulates.
Our data management is as follows:
Identify the Application Objects that are exchanged between Applications => action to be carried out by the Dev'
Identify the Data that needs to be tracked => action to be taken by the DPO
Make the connection between the Data and Application Objects , i.e. answering the question: " In which Application Objects is a Data?"
Once these tasks have been completed, you will be able to meet the following needs:
How does RIB data circulate in my IS
Which applications use RIB data in my IS
Through which servers does my RIB data pass?
The RIB data is used in which business task.
Finally, the concept of Master Data is part of a modeling framework which, just like the realization of the MCD, BPMN or TOGAF can rely on information from Carto-SI to be carried out elsewhere in tools accessible by experts. in their respective fields.
Represent an application on several environments (PreProd / Prod)
Question
We are testing Carto-Si we are trying to find out the best practice to represent an existing ALPHA application on two environments (1 VM PROD BDD / 1 VM PREPROD BDD / 1 VM PROD TOMCAT / 1 VM PREPROD TOMCAT / 1 PREPROD database / 1 DB PROD)
Responnse
Good practice is to represent an ALPHA application. This unique Application will have dependencies with the various technical components mentioned above.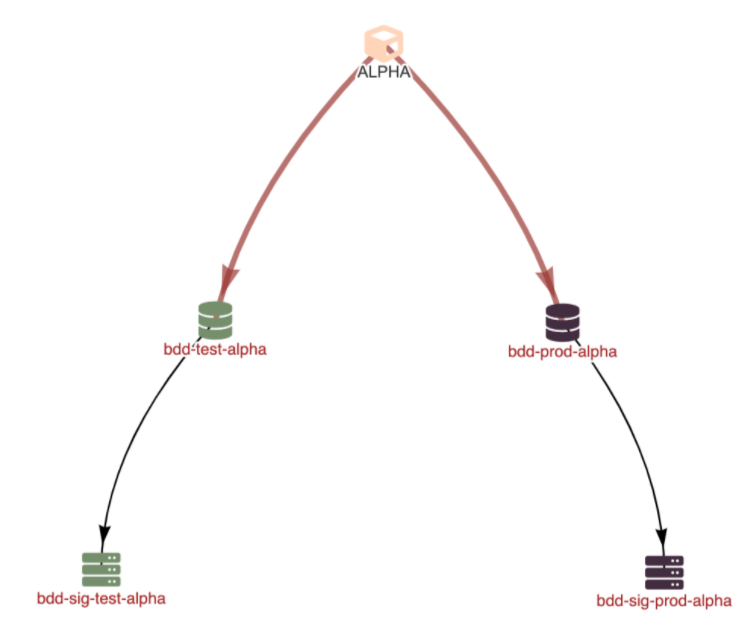 Reminder functionality for regular updates of application information
Question
Once a year I would like the application managers to be able to recertify the names of the software as well as the activities/business tasks related to their service (add/modify/delete dependencies)
Responnse
After inviting each application manager in Carto-SI and associating it with the applications it manages, you can use the "Send a reminder email" feature (Administration -> Configuration page) to invite, at the desired frequency, the makers of each application to update the information.